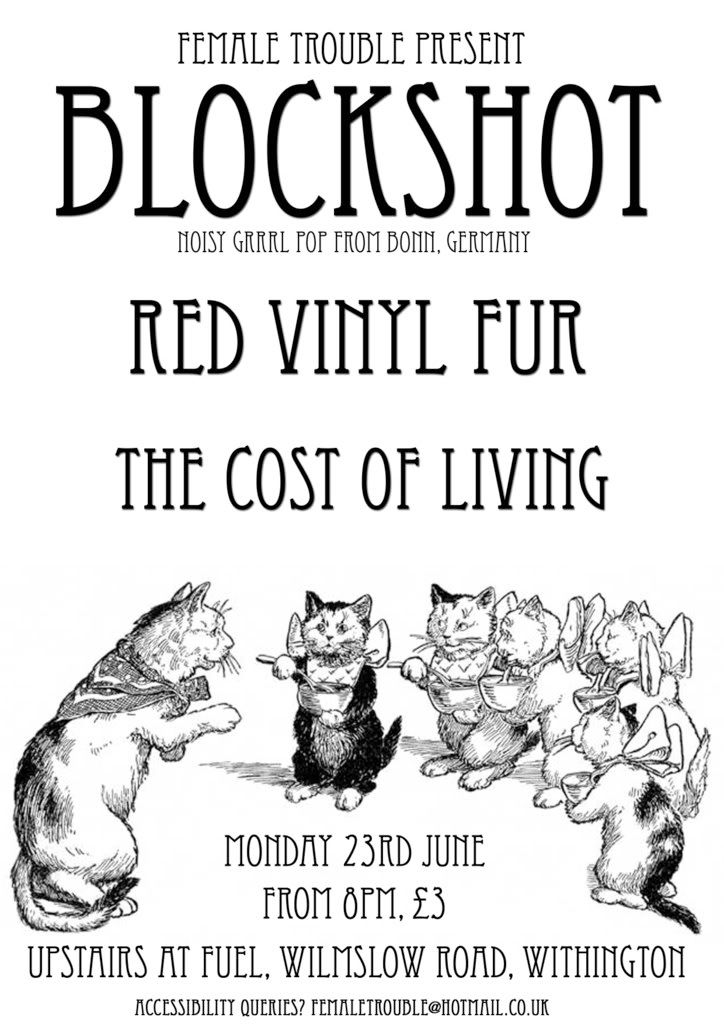 Current Mood:

happy
Every year Female Trouble is shocked at the lack of female-fronted bands appearing at Manchester's now-legendary In The City unsigned music festival. This year we're bringing you a trio of amazing bands at our official ITC fringe event at the Retro Bar on Sackville Street. It's only £3 to get in and you get a copy of the amazing new Female Trouble compilation for free which features all the bands playing in addition to tracks from other bands from the UK, Canada, the USA, Germany and Ireland!
Playing live for us are:
Hooker (Manchester)
Mancunian grrrl punk legends!
Sailor Tongue (Leeds)
Urgent angular queercore!
The Furious Bears (Leeds) –
Noisy beautiful songs that sound somewhere between The Breeders and Sleater-Kinney!
Plus djs from Female Trouble, Cursive, Lust in the Movies and Schizophrenia playing in between the bands!
For more information:
www.myspace.com/femaletroublemanchester
Hiya...we are looking for bands with girls/ women in to be part of an exciting project.

We wanna launch a cd which will prove to young women that anyone can start a band, that it's "do-able" and fun. We'll also provide a mini-zine leaflet to explain the point of the cd and to explain our feminist and queer ideas, inspire and excite.....
We are looking for local, national and international bands who are either all girls OR mainly girls and have an ethic compatible with that of Female Trouble (see our myspace for more details) to donate a track for the cd (mp3 format) We will give the cd away free of charge, so we can't pay you, but it will be dead good publicity.

We're going to shortlist bands in mid-August so will need any tracks by then

Best wishes, the female trouble collective
http://www.partylinedc.com/
This is the Manchester show....
Partyline are coming to the England!! See the website for the dates!
Feel free to add us a a friend if you wish to find out more about Female Trouble events in Manchester.

x
Current Mood:

cheerful